Welcome to Porter & May As good as our word!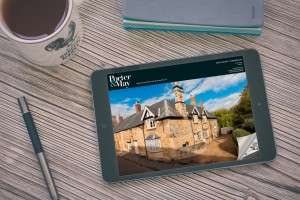 At Porter & May, we believe that your experience with us is everything. We believe that a good client referral is worth going the extra mile for which is why we always ensure that your experience with us is a tailored, professional, and friendly one. We don't like the term estate agency as it doesn't reflect the breadth of our full, proactive, and professional property service. You can expect your local Rutland & Stamford property experts at Porter & May to be like no other estate agency you engaged in before. You can expect unrivaled customer care from local Rutland & Stamford property experts who consistently go the extra mile to get the very best return. Our newly operational Layton homes for sale listing can now also be viewed online or get an appointment for house tour visits.
(Right) Try our new interactive brochure, all our new properties will have there own magazine, displayed on Rightmove, Zoopla, and Primelocation. Click here calameo.com
Our 24/7 "OpenCloud" system allows you instant access so you can see exactly what your local Rutland & Stamford property experts at Porter & May have been doing on your behalf, keeping you informed every step of the way. Our property sales, lettings, and management experts are locally based in Rutland & Stamford and are on-hand to make the whole process stress free. Our services don't stop there, we can assist with everything from home staging to that all-important move to your new home in the Rutland & Stamford region. We believe that customer care and tailoring our service to suit your needs is what makes the difference when it comes to selling your home or letting your investment property. As local experts in the Rutland & Stamford area, we know there are better ways to sell, let, and manage your home or investment property. We don't say this to be different from other estate agents, we say this because we believe there is a better way and we are committed to proving it because at Porter & May " we are as good as our word!
Our opening hours
At Porter & May, we know that our clients won't always be free during the day which is why we are contactable out of office hours. We introduced longer opening hours to fit around our clients' busy lives, if we aren't in the office, we can always be contactable via email which can be found at the top of any page.
Most of the viewings we conduct are carried out during evenings and weekends. At Porter & May, we are about putting you at the heart of everything we do. We aim to do this by flexing around your availability and busy lifestyle.
| | |
| --- | --- |
| Monday | 9:00am - 5:00pm |
| Tuesday | 9:00am - 5:00pm |
| Wednesday | 9:00am - 5:00pm |
| Thursday | 9:00am - 5:00pm |
| Friday | 9:00am - 5:00pm |
| Saturday | 10:00am - 2:00pm |
| Sunday | Contactable through email |
Recent quotes from our customers
" Selling my home through Porter and May was not a usual estate agent experience… It was a far more positive one. They certainly give an individual approach, tailoring your needs to suit you. Throughout the sale they kept me up to date with any progress and all the viewings were carried out by themselves, whilst ensuring all buyers were in a position to proceed. The quality of their brochures is excellent showing your home to it's true potential, with photos that would not look out of place in any "home magazine" Customer service and satisfaction at it's best…
I would like to say a huge thank you to both Tracy and Shaun.
Michelle Charters
"P&M used their expertise and judgement in sensitively managing negotiations between seller & buyer to avoid a high risk of the sale falling through, which I am most grateful for."
Jon Colley
Many thanks for your help and support over the last six months. You are without doubt the best estate agents I have ever come across. I would have no hesitation in either using your services again when I do come to sell or recommending you to others.
Graham Don
Porter & May provided us with a winning combination of professionalism, clarity and sheer quality.
They are in a different league to any other estate agent in Rutland. Their outstanding photography, cheerfulness, sense of purpose and indomitable style puts them streets ahead of the rest.
We cannot recommend them highly enough for making the whole process refreshingly and unbelievably enjoyable!
Clare Polito
"Porter&May were incredibly professional yet so personable and they provided a faultless service throughout. Their creative team helped us style our home to maximum effect and secured a London buyer within days of the property hitting the market. Their dedicated service exceeded all our expectations and not only did they help us sell but they also found us our new home, which we love. Definitely an estate agent with a difference, and as a client you really do feel valued."
Sam Letteri
"As a family looking to relocate from Hertfordshire to Rutland, buying through an agent we could communicate easily and openly with was crucial when it came to purchasing the right property for our needs. From the first time we met Tracy & Shaun at Porter & May, they put us at ease immediately and consistently went above and beyond to assist us with our move. Their relaxed, but always responsive approach was exactly what we needed to keep the relocation stress-free. It's reassuring to know that we've built a good relationship with an agent we can whole-heartedly trust for all our future property needs."
Natalie Bradshaw
"It was an absolute pleasure dealing with Porter and May. Their friendly and professional yet always friendly and approachable style made selling our house as stress free as possible. They were always available to answer queries and their positivity really helped the process go smoothly. We particularly appreciated not doing the viewings ourselves and there's no doubt that their impartiality helped sell our house for the best price. "
"Porter and May managed to dispel all our preconceptions of estate agents. Their unique style and professional, yet personal, approach enabled a quick and effortless sale. Thanks for everything guys. Hope to bump into you soon."
Caela Clevedon
Dear Porter & May,
I never thought this day would come – I am writing a thank you note to an estate agent! It has been a pleasure to have you as our agent and would not hesitate in recommending you to others" in fact, anyone selling their home in Rutland would be mad not to use you. Your level of customer service is simply exceptional. We have felt both looked after and as if the matter was of huge personal interest to you. We saw you far more than just an estate agent, by wanting to know and understand our personal situation and finding the perfect buyer that made our dream move come true. By truly knowing the local market, taking a vested interested in all parties in the chain and applying your straightforward and professional support, there has been a happy outcome. Hope you enjoyed the flowers and bubbles! With best wishes to you all, and many thanks for your hard work.
Miss C Baxter and family
"Porter & May were very supportive throughout a roller coaster epic of a house sale! Tracy in particular was very patient throughout, and all went well in the end. I would recommend Porter & May to anyone selling a house in the Rutland area. Thanks Tracy – I hope Porter & May goes from strength to strength!
D. McLeod, Uppingham
A massive thanks to Porter & May for helping us achieve our dream. What an amazing team these two genuine kind people are. Always going the extra mile on everything they do, even when the going gets a little
tough. After our first two sales fell through at the last hurdle, they remained professional, positive and determined at all times.
We were ready to give up several times, but thanks to this amazing pair, we will turn the key to our lifelong dream in June 2016 in Turkey. Even after our 3rd time lucky sale had completed, we called by one day for advice on a property which was nothing to do with them, what did they do? Sat us down, made us a fab cup of coffee and chatted for an hour about what they thought we should do. Once more we took their great advice and are moving next week to somewhere we can call home until our retirement.
Thank you so so much for everything you two, and good luck in everything you do.
Mr & Mrs B, Greetham